It appears that over the last few decades cars have become increasingly more expensive. Supercars and hypercars have demanded more money from perspective drivers. I remember when the Bugatti Chiron first appeared and it was an astonishing feat of engineering and had over 1000bhp. Now it's deemed to not be a supercar unless it has over 1000bhp. Increased bhp through the drive train means that components have to all be made to take the strain, naturally requiring more r&d and usually these components are more money to manufacture or purchase from suppliers. Most of the world's most expensive cars feature astonishing technology and often both ICE and EV drivetrains for better performance and economy. YouTubers such as SuperCarBlondie get to try out some of the most amazing production and concept cars that cost the earth to purchase. Below is a list of what I have put together as 10 of the most expensive production cars currently available, all of which you can request at auto genie.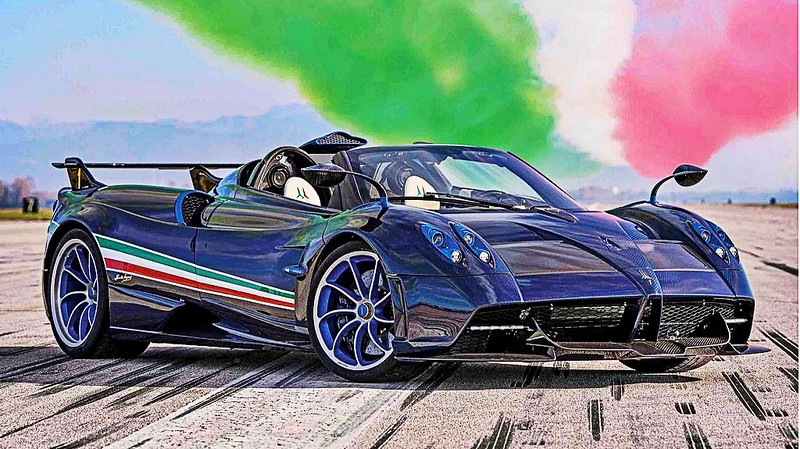 A Million Dollar Tribute
Overview
Pagani has revealed a Tricolore version of the Huayra, which is even wilder than its Zonda predecessor since that the current Huayra's manufacturing cycle is also coming to an end. The body modifications continue with the addition of a freshly designed air scoop that improves airflow and pushes more cool air into the engine compartment. The wing, which is constructed into the rear bonnet from a single piece of carbon fiber, is also unique to the Huayra Tricolore. Priced at a whopping 6.7 million Dollars, the Tricolore was created with great lightness in mind, using a combination of composite materials and aviation technology.
What Makes It the Priciest?
The exterior gets a different front bumper with larger intakes, a prominent front splitter, and a model-specific rear spoiler. The Huayra Tricolore's interior has a single-block aluminum gear knob and blue anodized trim pieces made of aviation-grade metals. In terms of power, the Tricolore hosts a twin-turbo 6.0-liter V12 engine, although it has a significant power boost. It has a power output of 829 horsepower and a torque output of 811 pound-feet.
2. Bugatti Chiron Pur Sport - £2.7 Million (October 2021)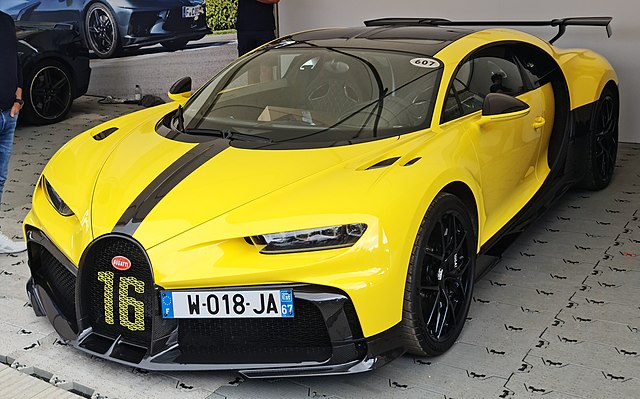 Designed to Perform
Overview
It costs $3.6 million to buy the Bugatti Chiron Pur Sport, yet this supercar is meant to be the ultimate rebuttal against all-electric vehicles. In other words, this isn't your run-of-the-mill Chiron. Bugatti's 1479-hp ground-based missile has a raw-nerve variant. Both the Chiron and the Chiron Sport are more secluded; this one is more direct, tenser, and more compelling as a result.
A Redesigned Masterpiece
The Chiron idea has evolved aggressively and boldly, with everything oriented toward agility in every meaning of the term, resulting in a confident and muscular look. The Pur Sport has a unique and striking look thanks to its flat front end and dynamic design. The engine's improved flexibility and throttle responsiveness allow it to operate at higher RPMs with more ease. At a speed of 350 km/h, the beast unleashes all of its potentials.
3. Lamborghini Sián FKP 37 - £3 Million (October 2021)
Not Your Average Hybrid
Overview
Priced at $3.6 million, The Lamborghini Sian is the world's first supercar with a V12 engine and supercapacitor hybrid drivetrain. As a result, it can be recharged very quickly and can store more power than a conventional lithium-ion battery of the same size in most cases. In essence, the limited-edition Sián is an Aventador SVJ with a more radical external style and a revised interior.
What Makes It Stand Out?
You'll be taken aback by its all-carbon fibre construction. Ingenious lines shape the building's electrochromic roof and moving surfaces, both of which are controlled by smart materials. The interior of the Lamborghini Sián FKP 37 blends exquisite Italian craftsmanship with cutting-edge technology to provide a driving experience that is equal parts exhilarating acceleration and supremely relaxing. As soon as you put the gearbox in manual mode, the Sián rips to life with its huge V-12 bolting out of the blue.
4. Koenigsegg Jesko Carbon - £3.3 Million (October 2021)
Best of Everything
Overview
The Koenigsegg Jesko was revealed at the 2019 Geneva Motor Show by the Swedish automaker Koenigsegg. The Jesko takes up the mantle that the Agera RS left as the premier road-legal track car for people who want the best of everything. Considering that the Jesko begins at about $3 million, its capabilities more than justify the hefty price tag.
Designed to Handle
This one is based on a larger chassis that hides a 1600-horsepower V-8 while operating on E85, as well as a nine-speed transmission with seven clutches, which is unprecedented. In addition to the rollover bars and integrated fuel tanks, the exterior is reinforced with the world's strongest fiber. Luxurious materials like leather, carbon fiber, and aluminum are liberally utilized throughout the cabin, giving it a chic appearance. Unlike some other high-performance vehicles that aren't road legal, the Jesko will be accredited everywhere regardless of the trim you select.
5. Aston Martin Valkyrie Spider - £3.5 Million (October 2021)
Choose of the slain
Overview
Let us introduce you to the magnificent Aston Martin Valkyrie, a vehicle as unique as its name. This car's $3 million price tag instantly conveys a sense of wealth and status. There will be just 150 of these incredible road cars built, making it Aston Martin's first hyper vehicle and one that is simply out of this world in terms of what we can expect from a car. The Valkyrie gets cutting-edge technology typically reserved for Formula 1 racing cars and spacecraft thanks to its collaboration with the world-renowned Red Bull Racing Formula One team. When you look at the vehicle, it's immediately apparent that the style is nothing short of spectacular, if not downright incredible in most instances.
Unparalleled Perfection
The Valkyrie's main construction is made of carbon fiber, with no steel whatsoever. When coupled with increased hypercar power, this translates to an ultra-lightweight body that provides the ideal 1:1 power to weight for pure driving perfection, making for an absolutely biblical driving experience. What is the source of electricity for this coveted vehicle, by the way? Power comes in the shape of an enormous 6.5-liter V12 engine with 1160 horsepower. In order to match the Valkyrie's incredible acceleration, the magnificent V12 is torque-increased during take-off and utilizes the auxiliary electric engine for an additional power boost.
6. Lotus Evija - £2 Million (October 2021)

A Daring Onnovation
Overview
The exciting conclusion to one of the most remarkable car tales ever recorded. The Lotus Evija is the latest in a long line of legendary, game-changing road and racing vehicles that date back more than 70 years. Another innovative step is taken by a family with a history of risk-taking innovation and unconventional thought. While many of its competitors use hybrid powertrains, this vehicle goes all-electric and has a high-speed charging system as well. Its external design is inspired by high-performance racing vehicles. Progress made possible by a long history of pioneering efforts, presenting you the £2 million Lotus Evija, a product of British ingenuity.
Unlike Any Other
The Evija prototype's cockpit is far from quiet, with a strong electrical hum covering the track's rumbling and the suspension's rattling. Compared to other hypercar competitors in this market segment, it's eerily silent from the outside, whistling by with the sound of displaced air, like a fast electric train. Lotus says that the Evija's battery-electric drivetrain will give it the world's most powerful production vehicle in case you'd forgotten. Its four separate motors provide 1,973 horsepower and 1,254 lb-ft of torque. Performance claims include a 0-60 mph time of less than three seconds, a 0-182 mph time of fewer than nine seconds, and a maximum speed of more than 200 mph.
7. Mercedes-Benz Project One - £2 Million (October 2021)
A Hybrid Beast
Overview
Since the inception of Formula 1, engineers have yearned to bring the pinnacle of motorsports innovation to the public realm. Mercedes-AMG Project ONE, a two-seat hybrid race car, will bring the most advanced and efficient Formula 1 hybrid technology to the road for the first time. There are four separate electric motors in this car, one for each front wheel, one connected to the engine's crankcase, and one in the turbocharger. It's the result of Mercedes-AMG and Petronas Motorsport working together on this project. 275 units of the vehicle will be built, with each one costing around $2.72 million USD.
Pure Elegance
The interior's design is based on a marriage of performance and utility, so it delivers a genuine Formula 1 experience both on and off the track. The carbon-fiber support structure's center tube serves as a visual and functional separation for the driver and passengers. The Mercedes-AMG Project ONE's uniform styling is based on a single idea. Each component of the vehicle's design contributes to its overall performance in some way. To achieve a muscular appearance, the designers used the mid-engine design idea. Large wheel arches, a cockpit that is positioned far forward, and the car's "wasp waist" with its long "tail" all speak to its racing heritage. Selected torque distribution allows for very high levels of vehicle dynamics, with the front axle electric motors alone capable of 50,000 revolutions per minute. For the Mercedes-AMG ONE with 1000 horsepower, the combination of Race Start and the removal of turbo-lag enables zero to 124 mph within just six seconds.
8. Rimac C_TWO Nevera - £1.8 Million (October 2021)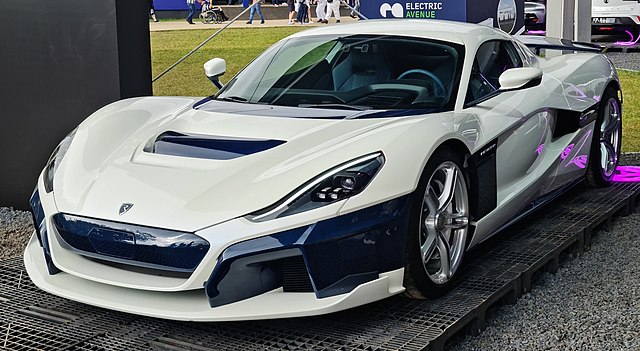 Hypercar 2.0
Overview
Extremely fast and strong; able to travel at rates that are beyond understanding. Nevera is a force unlike any other, bearing the name of a powerful storm system. Nevera was born to outperform since it was designed, developed, and handmade in Croatia with function in mind. As the name implies, a Mediterranean storm known as a Nevera whips over the open sea off the Croatian coast with lightning-charged force. This new super vehicle generation proudly bears the name and features of this unique meteorological force of nature, striking with incredible speed and ferocity. The $2.4 million powerhouse will make its formal debut in a few months.
Experience the Electric
Nevera's form is shaped by airflow and is strictly functional. One clean, continuous line runs around the whole vehicle, connecting all of its parts. During straight-line acceleration, the Nevera retracts its wing to decrease drag and opens underbody vents to improve efficiency. Even in full racing gear, Nevera is capable of serving as a grand tourer as well as a high-speed hypercar. Nevera's interior has tactile buttons and digital displays mixed together in two handmade dials in the middle, incorporating the air vents and serving as a calibration tool for the vehicle. Nevera's wheels are each powered by their own electric motor, which distributes torque in accordance with how the driver wants it to be used. With a staggering 1,888 hp and 1,696 lb-ft of torque, this vehicle is no slouch. In only 1.85 seconds, the electric rocket accelerates from 0 to 60 miles per hour, reaching a maximum speed of 412 kilometers per hour.
9. Bentley Bacalar - £1.8 Million (October 2021)
A £1.8 Million Standout
Overview
Some of the strategic minds at the top of the car business must have had similar ideas, since Bentley has announced a new model without a roof, following the lead of other premium manufacturers. In the contemporary period, just one other two-door Bentley has been built: the all-new Bentley Mulliner Bacalar. As the pinnacle of open-air luxury for two, this Bentley Mulliner Grand Tourer marks the company's return to coachbuilding as the world's oldest coachbuilder. The Bentley Bacalar, which retails for $2 million, is an exceptional example of coachbuilding. Mulliner has a long history in coachbuilding, dating back to the 1500s. The company now offers clients three distinct portfolios: Classic, Collections, and Custom. The Bentley Bacalar is the pinnacle of open-top luxury transportation.
Ultra-Luxury Speedster
A 650-bhp, 667-lb-ft bi-turbo W12 engine has been added to achieve a maximum speed of nearly 200 miles per hour (250 km/h). Wheels 20mm wider than on a Bentley Continental GT, with a distance between them of 22 inches. Single headlamps replace the brand's long-standing signature twin components, and massive mesh-covered intakes give the front end the appearance of being more whole than a vehicle. Choosing the same 6.0-liter W-12 turbocharged engine as the company's other premium vehicles suggests less virtue. A slight boost over the Continental has been made to provide 650 horsepower, and Bentley believes this will be enough to meet its goal of building the quickest open-topped Bentley ever.
10. McLaren Elva - £1.425 Million (October 2021)
No Less
Overview
As the Elva is known (after the French phrase "Elle Va," which means "She Goes"), it is absolutely crackers. Designed to provide the most bare-bones driving experience imaginable. Pleasure without limits. Elva is designed to enhance every sensation and create a closer connection between the driver and vehicle. There are no words to describe how unbelievably light, intoxicatingly strong, and agile it is. To be precise, it's the sixth vehicle in the McLaren Ultimate Series, which dates back to the first F1 in 1994. Previous models include the demonic P1, physics-defying Senna, and long-wheelbase Speedtail. It's the most powerful non-hybrid McLaren ever, with 804 horsepower. Even yet, at only 1269kg, this is the lightest car produced since the McLaren F1. It's also very pricey, coming in at a whopping 1.7 million US dollars.
Built to Perfection
The narrative of McLaren's design continues with this new chapter. It's all about strong shapes, straight lines, and swishy motion. Because of the flow, there are no longer any distinctions between the inside and outside. One of the biggest sources of motivation for me has always been Formula 1. There are clean body sides and shrink-wrapped muscular forms because of concepts that were developed in grueling competitions. Reactions and feedback take the game to a whole new level. response. Take advantage of the furious 815PS and 800NM of torque from the 4.0L Twin-turbocharged V8 engine, which roars into the cockpit with a louder noise due to the custom quad exhaust system. Proactive Chassis Control II, which provides superb road and track handling, is also responsible for this almost supernatural agility.